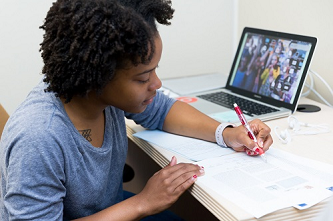 The IMO High-school Internship Program (HIP) is an integrated mathematical oncology centric internship program that delivers interdisciplinary team science research experiences for high school students. This mentored training program is designed for motivated aspiring scientists to help prepare them for interdisciplinary cancer research careers.
The Future Leaders in integrative Cancer Research (FLiiCR) summer program is designed to raise awareness of the intellectual value and excitement of multidisciplinary research in undergraduate students who view themselves as either a biologist or a mathematician but not both. 
An annual weeklong workshop that directly facilitates integrated mathematical oncology training whilst dealing head on with the issues of research at the interface between multiple disciplines. Our innovative workshop formant combines interdisciplinary participant cross-training with small group hands-on collaborative science projects. Workshop participants are directly involved in teaching other participants through intense hands-on modeling work that will provide training guaranteed to benefit all workshop participants and help usher in the next generation of integrative scientists.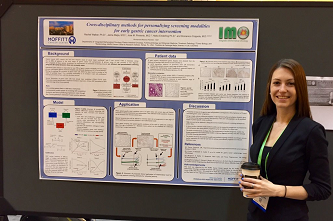 Graduate/Post-Graduate Training
The Moffitt PSOC postdoctoral fellow program trains junior scientists to integrate physical and oncological sciences. Projects will not only provide a natural research setting for the Fellows to develop their interdisciplinary skills but also a platform from which they can develop their own projects. Team and project leaders ensure that a program of interdisciplinary training activities is designed to augment each Fellow's primary research endeavors. Thus, Fellows will engage in projects outside their principal specialty; participate in the supervision of graduate students and undergraduates from different disciplines who may be working on their project; and assist in the preparation of interdisciplinary data to knowledge and modeling framework dissemination materials

Scientists discuss their research in layman terms to enable meaningful dialogs with the community in a casual environment. Moffitt IMO's Drs. Basanta and Araujo are part of the Taste of Science US leadership team and PSOC investigators contributed to the successful first year of this program (Drs. Gatenby, Anderson, Gerlee, Scott).

Moffitt PSOC invites internationally renowned speakers to address current concepts in interdisciplinary and translational cancer research. The lectures are be held at Moffitt Cancer Center in beautiful Tampa, FL

Interviews with scientists, for everyone!
"We set up camp at the New World Brewery in Tampa, Florida and have enjoyed many a science chat there. On occasion we venture out further afield: a London pub, a German research institute – but we always serve the newest science we can find!"